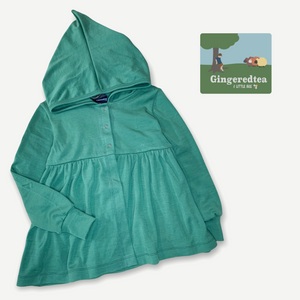 Made from a beautiful 100% Merino Wool wool ribbing in Jade, this Pixie Swing Cardigan has a relaxed fit across the chest and cuffed sleeves for a wide range in fit. Worn at varying lengths, this piece can fit from 4-6y. Easy to wear over a tee or layered over a Baselayer and heavier tee. 
Sizing: this sits approximately 2" longer than our 4/5 Basic Tee, 1" longer than our 5/6 Basic Tee, and the same length as our 6/7 tee. It can be worn with all these sizes, but may not layer over bulky tees in 6/7 sizing (but would last you into Spring/Summer as an evening/beach cover up).
Wool keeps sheep happy in all weather - and it's temperature regulating qualities also work on you! Wool can absorb up to thirty percent of it's weight in moisture and not feel wet - and even soaked, it still helps keep you warm! Perfect for when you want warmth without bulk. Great for school - especially if your child may be participating in an outdoor program this year, or occasionally doing lessons/lunch outside. 
Each item is sewn by me in my house. The handmade nature item means there is a possibility there may be slight variations; I do not consider these 'imperfections' but rather part of the natural process of a handmade item. These natural variations do not impact garment quality.