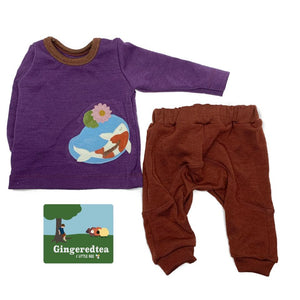 This is the listing for a ready-to-ship item. 
This set includes a 0-3M basic tee, which is stretchy but trim fitting meaning it will gently stretch around adorable tummies while leaving plenty of room for comfortable layering in cooler weather. The fit of the shirt makes it easy to buy large - and this shirt should fit more relaxed from the get go and more fitted as baby grows. Combined with baby joggers that look adorable over cloth or disposable diapers and are easy to pull on gently for that first month floppiness. Small super cuffs help since at the legs for tiny legs while making it easy to 'fish' (pun intended) little toes out from inside. Topstitching adds a detail to these pants that we think make them extra special! 
Wool keeps sheep happy in all weather - and it's temperature regulating qualities also work on you! Wool can absorb up to thirty percent of it's weight in moisture and not feel wet - and even soaked, it still keeps you warm! These qualities make it a perfect choice for little babies. 
Made from premium organic merino wool interlock that is gathered and knit in the USA and dyed in small batches by hand using high quality acid dyes. Each item is sewn by me in my house. The handmade nature of items means there is a possibility there may be slight variations; I do not consider these 'imperfections' but rather part of the natural process of a handmade item. These natural variations do not impact garment quality.