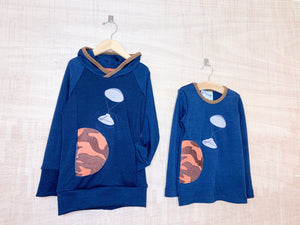 5/6 Pocket Hoodie 
A classic hoodie with a secret inseam pocket! Whether you're pulling this on after a long hike, wearing it while looking through your backyard telescope, or just playing inside - this hoodie will keep you cozy.  
4/5 Basic Tee
Slim fitting - this slim fitting basic tee is perfect on it's own or under vests, jackets, or hoodies. 
Wool keeps sheep happy in all weather - and it's temperature regulating qualities also work on you! Wool can absorb up to thirty percent of it's weight in moisture and not feel wet - and even soaked, it still keeps you warm! Perfect for when you want warmth without bulk. Great for school - especially if your child may be participating in an outdoor program this year, or occasionally doing lessons/lunch outside. 
Made from premium merino wool interlock knit in the USA and dyed in small batches by hand using high quality acid dyes. Each item is sewn by me in my house. The handmade nature item means there is a possibility there may be slight variations; I do not consider these 'imperfections' but rather part of the natural process of a handmade item. These natural variations do not impact garment quality.