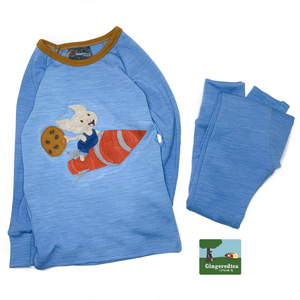 No matter what is happening - cuddling up with a favorite story always feels comforting. 
Merino Wool baselayers are one of the most versatile pieces in an adventurous kids wardrobe. Gingeredtea thinks they should never be boring! And lets face it - these days we're in our pajamas a lot. 
They work as temperature regulating pajamas (and a natural alternative to chemically treated flame-retardant fabrics) throughout the year. As the temperature dips they are your comfy under layer - making mornings easier.  Perfect for an everyday explorer, a super snuggler, or a Forest/Nature school student. 
Made from premium organic merino wool interlock that is gathered and knit in the USA and dyed in small batches by hand using high quality acid dyes. Each item is sewn by me in my house. The handmade nature item means there is a possibility there may be slight variations; I do not consider these 'imperfections' but rather part of the natural process of a handmade item. These natural variations do not impact garment quality.  
Approximate finished garment measurements: 
Inseam: 17"
Rise: 16.5" 
Waist (with relaxed elastic): 19"
Under arm to hem: 12"
Neck (back) to hem: 17"