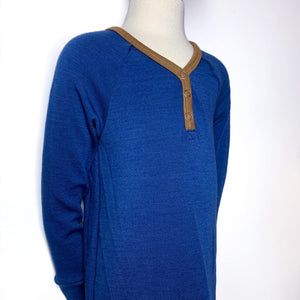 Ready-to-ship 4T  Henley Shirt in Royal Blue and Brown Copper 

A classic shirt made from a luxuriously soft mid weight wool, this shirt is ready to come along on all your adventures. A trim cut- this shirt can be dressed up or down. Perfect for an initial layer that you know you may want to layer over later in the day. Easy to size up in. 

Wool keeps sheep happy in all weather - and it's temperature regulating qualities also work on you! Wool can absorb up to thirty percent of it's weight in moisture and not feel wet - and even soaked, it still keeps you warm! Perfect for when you want warmth without bulk. Great for school - especially if your child may be participating in an outdoor program this year, or occasionally doing lessons/lunch outside. 
Made from premium organic merino wool interlock that is gathered and knit in the USA and dyed in small batches by hand using high quality acid dyes. Each item is sewn by me in my house. The handmade nature item means there is a possibility there may be slight variations; I do not consider these 'imperfections' but rather part of the natural process of a handmade item. These natural variations do not impact garment quality.