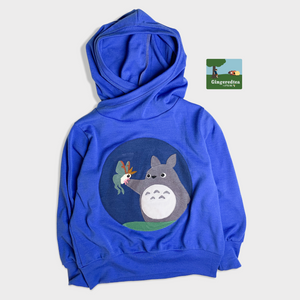 Made from a beautiful 100% Merino Wool wool ribbing in Blue, this hoodie has a relaxed fit across the chest and cuffed sleeves for a wide range in fit. Easy to wear over a tee or layered over a Baselayer.
Wool keeps sheep happy in all weather - and it's temperature regulating qualities also work on you! Wool can absorb up to thirty percent of it's weight in moisture and not feel wet - and even soaked, it still helps keep you warm! Perfect for when you want warmth without bulk. Great for school - especially if your child may be participating in an outdoor program this year, or occasionally doing lessons/lunch outside. 
Each item is sewn by me in my house. The handmade nature item means there is a possibility there may be slight variations; I do not consider these 'imperfections' but rather part of the natural process of a handmade item. These natural variations do not impact garment quality.