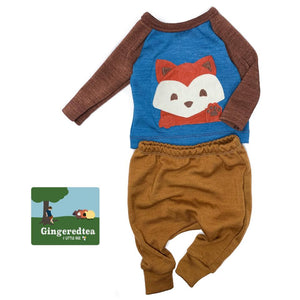 Made from a luxuriously soft mid weight wool, this set is perfect for a Fall or Winter baby. Featuring a NB size appliqué top and 0-3m slim harem bottoms, this set will fit well from birth. The pants are easy to get on during those delicate first few weeks, and easily pull up over a cloth diaper. The cuffs are easy to turn up to add longevity,  and stretchy enough to make it easy for caregivers to reach in to gently coax a little foot out. 
Wool keeps sheep happy in all weather - and it works on babies too! Wool is there to help keep baby comfy during all those transitions from indoors, to the car, to outdoors.  
Made from premium organic merino wool interlock that is gathered and knit in the USA and dyed in small batches by hand using high quality acid dyes (this just means the dye is set using an acidic component like vinegar - all of our dyes are free from heavy metals and tested to be safe for children's clothing). Each item is sewn by me in my house. The handmade nature item means there is a possibility there may be slight variations; I do not consider these 'imperfections' but rather part of the natural process of a handmade item. These natural variations do not impact garment quality.