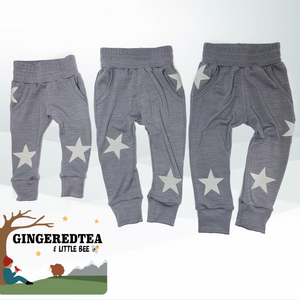 Ready for all those childhood adventures - these Slim Joggers are sure to keep you comfy dancing to your favorite tunes, curled up with a favorite book, or running on the playground. They are made from our luxuriously soft marled Merino Wool. Star appliqués add a whimsical detail to these comfy pants. 
Perfect for potty training - these pants are easy to get on and easy to get off! 
Sizing Help (measurements are taken by hand - I do my best to be as accurate as possible)

 9-12m 
Elastic: 16" (unstretched) 
Inseam: 11"
3T
Elastic 18" (unstretched)
Inseam: 14" 
4T: 
Elastic: 19" (unstretched) 
Inseam: 15"