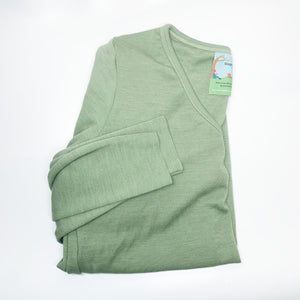 Sure to become a staple in your wardrobe, this tunic features a bound V neck for a professional and durable finish, a very slightly curved hem, and sleeves with customizable length. 


Made from premium merino wool interlock knit in the USA and dyed in small batches by hand using high quality acid dyes. Each item is sewn by me in my house. The handmade nature item means there is a possibility there may be slight variations; I do not consider these 'imperfections' but rather part of the natural process of a handmade item. These natural variations do not impact garment quality.  
SIZING 

Patterns recommended body measurements: High Bust: 35.5", Hip: 38"

Approximate garment measurements (measured flat):
V neck - top of back neck to tip of V: 6.5" (this is a medium V - not too low, but lower than a crew neck would be)
Under arm to bottom hem: 20"
Under arm to cuff: 19" hemmed, 22-24" with custom cuffs
(chest) Under arm to under arm: 20"
Back of neck to hem: 28"
Customizations available: cuff length can be between 2-4" long to add length to sleeves if needed.