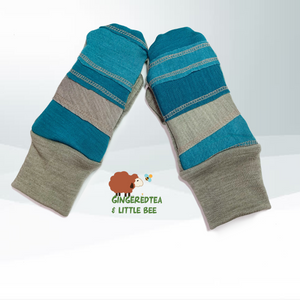 These adorable mittens feature a scrappy decorative top. They are made from two layers of medium weight 100% merino wool interlock - luxuriously soft. During construction a few stitches are added by hand to the thumb and finger tips to make sure both layers stay together and don't "pop out" when pulled off or put on. There are no exposed seams in the thumb or the hand - there is an exposed serger seam at the wrist. 
Why buy wool mittens? 
Wool keeps sheep happy in all weather - and it's temperature regulating qualities also work on you! Wool can absorb up to thirty percent of it's weight in moisture and not feel wet - and even soaked, it still keeps you warm! Perfect for little hands that want range of movement without bulk but still need their hands warm. If you'll be playing hard outside, you can lanolize your mittens so they repel water. Lanolin is the oil that is naturally on sheep - adding it back into the wool not only conditions wool but gives it back it's ability to repel water. 
All Scrappy Mittens are Final Sale.